WPForms Vs Gravity Forms: One is Better than the Other
Choose one of the Two Plugins to build WordPress forms, sign-ups, surveys, polls, and checkouts
Online forms shouldn't be the digital counterpart of those boring, complicated questionnaires you fill out while filing your tax. You need beautifully designed, user-friendly contact forms that people want to complete.
Wouldn't you like to combine high-quality forms with data analytics and seamless integration with ZERO Coding?
Choose either of the two favourite plugins: WPForms or Gravity Form.
 WPForms is accessible for free as well as for a fee (premium plans), whereas Gravity Forms is solely available for purchase.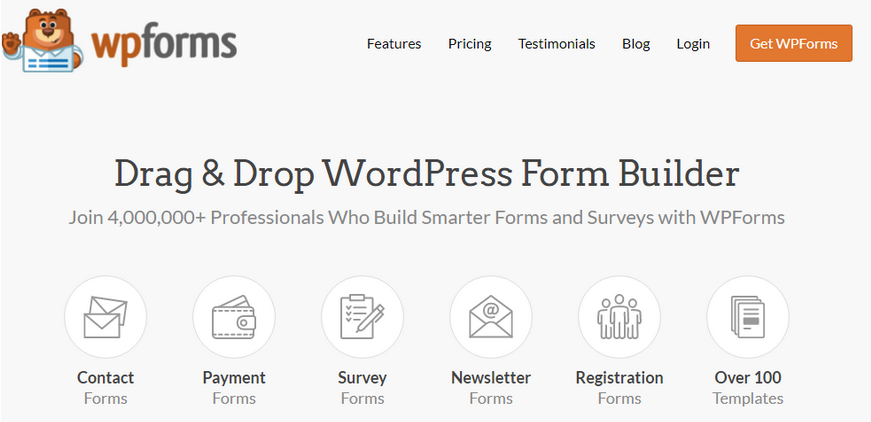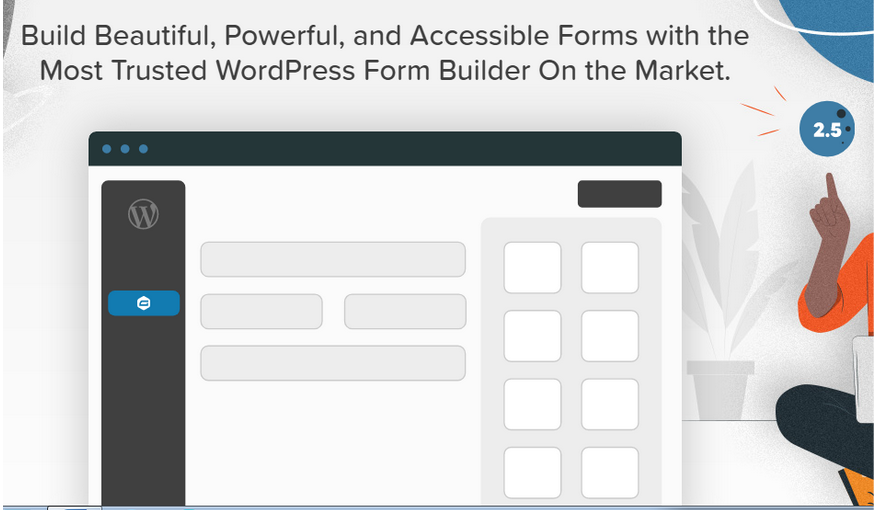 Both the plugins are the perfect solution to build custom digital forms and checklists to help your team collect richer data anytime, anywhere. 
So which of these two plugins should you choose for your website? Let us help you decide with the help of a story.
***Story of Gravity Gareth and WP Wanda. 
Gravity Gareth decides to install Gravity Forms to collect information about his potential customers. Now he is not great at coding or technical stuff. He spends $59 to buy a yearly license. 
Next, he wants to figure out which information should he collect from his clients. Emails? Name? Address? Country? City? Phone Number? After he decides on the information fields, he faces another problem. He doesn't know how to add various fields to the form and make them look great. He spends 2 hours watching tutorials and experimenting with the interface. After a day of hard work and spending $59, he finally has a crappy contact form going that nobody wants to fill in. Poor Gravity Gareth has spent so much time and money and he had no leads or sales. 
Now let's shift gears and look at another small business owner who has also just started her website. 
WP Wanda soon realizes that if she buys premium plugins, she will sink a huge amount of her money and time. In reality, what matters is that she gets more leads and sales. She's a smart cookie so she uses the free version, WP Form Lite. She only needs to take a few steps to install this contact form. Out of the four available templates, she chooses one, tweaks it, pastes the shortcode and it's done. 
This entire process took WP Wanda less than 10 minutes without spending any money and she has a cool form on her website. 
Very soon, she starts seeing an increase in the leads and decides to upgrade to the premium version of WPForms. With the premium version, she gets almost all the additional features that Gravity Forms offers plus she can get customer feedback through the star rating field which is exclusively available only in WPForms.***  
Moral of the Story 
If you are just starting your business website, using a free contact form plugin like WP Lite, with limited features makes sense. However, when your website is growing, you can install a premium form maker plugin like Gravity Forms or the paid version of WPForms. 
Depending on your goals, you can choose either of the two, which vary slightly in terms of their features and pricing. 
The rest of this article will discuss the similarities and differences between the paid version of WPForms and Gravity Forms in detail.
Gravity Forms Vs. WPForms; Features and Options
Gravity Forms and WPForms both provide all of the fields that most users would expect to find in a premium form builder plugin, such as single line and paragraph text fields, drop-down, multi-select, check-boxes, and radio buttons. As a result, if you need to develop basic forms for your WordPress website, both of these tools will perform. Their advanced features are quite sophisticated.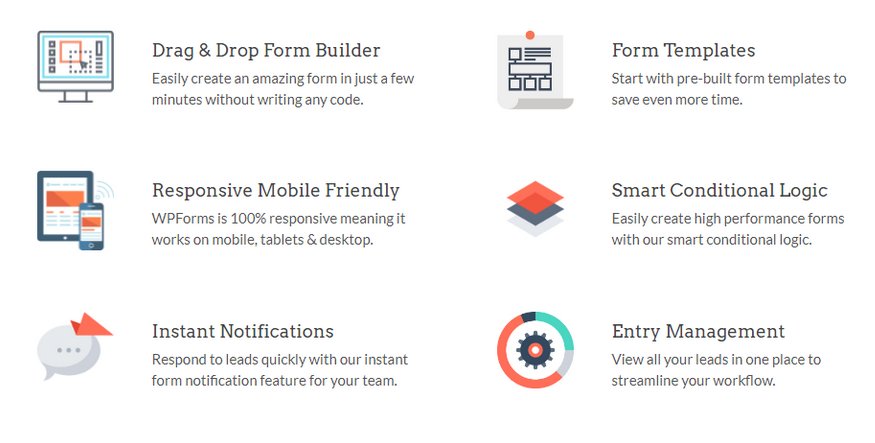 Unlimited forms and multiple options in entries and templates 
Conditional logic 
Multi-page forms
PayPal and Stripe payments
User-submitted posts
File uploads for users to submit images and documents
Offline forms
1-click geo-location
Spam protection and Support for reCAPTCHA and hCaptcha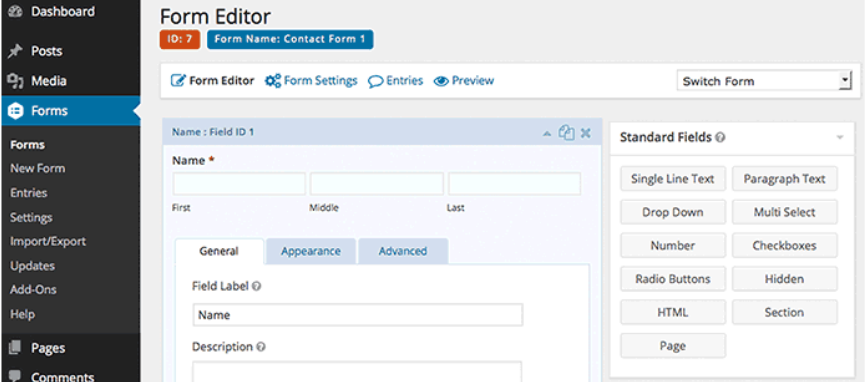 Easy to Use Visual form editor 
Unlimited form fields
Conditional logic
Email notifications
Mathematical calculations
Anti Spam
Schedule forms
Survey, Polls and Quiz add-on
WordPress post creation
Save and continue option
Both forms offer a variety of simple methods to personalize your forms. For example, a drop-down in the form builder allows you to easily select a field size.
The layout buttons make it simple to arrange fields in columns without having to write code.
After that, you may use a block or shortcode to embed your forms anywhere on your website. 
Overall, both plugins include lots of beneficial options, however, WPForms has some unique features that Gravity Forms doesn't have, such as the rating field and custom captcha creation. As a result, WPForms may be the best alternative if you want to collect feedback from your visitors or want a custom captcha.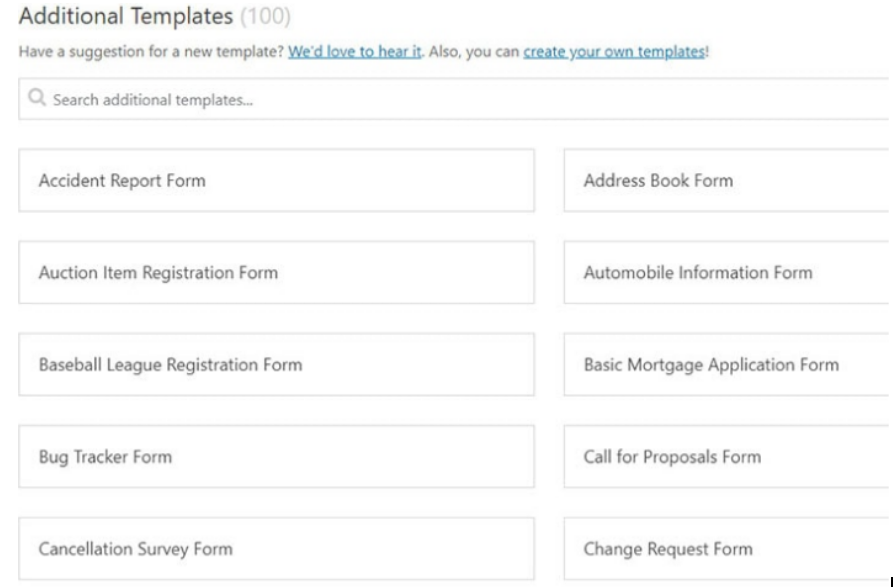 Forms are a vital way for your business to communicate with leads and customers, but building them doesn't have to be intimidating.
With WPForms, you can create high-conversion forms for your WordPress site in fewer steps than your Korean skincare routine. Simply pick up a template from the library, edit it, paste the shortcode, and bam! You're done. 
While Gravity Forms does not offer any form templates, WPForms has a large number of pre-built forms to get you started.
 All WPForms license customers, get access to six customizable, pre-made form templates, including a simple contact form, a "request a quotation" form, and a "billing" or "purchase" form. Pro or Elite WPForms licenses give you access to more than 100 ready-to-use templates. 
The interface of this WordPress form builder allows you to create and customize single or multi-page forms with simple drag-and-drop functionality. 
Management of Data Submitted Through Forms
Having great forms is just the tip of the iceberg—you need to store, manage and analyze data obtained from these forms for meaningful conclusions. 
Both WP Forms and Gravity Forms store form entries in your WordPress website database. That way you just have to log in to your WordPress Dashboard to find out what has been submitted.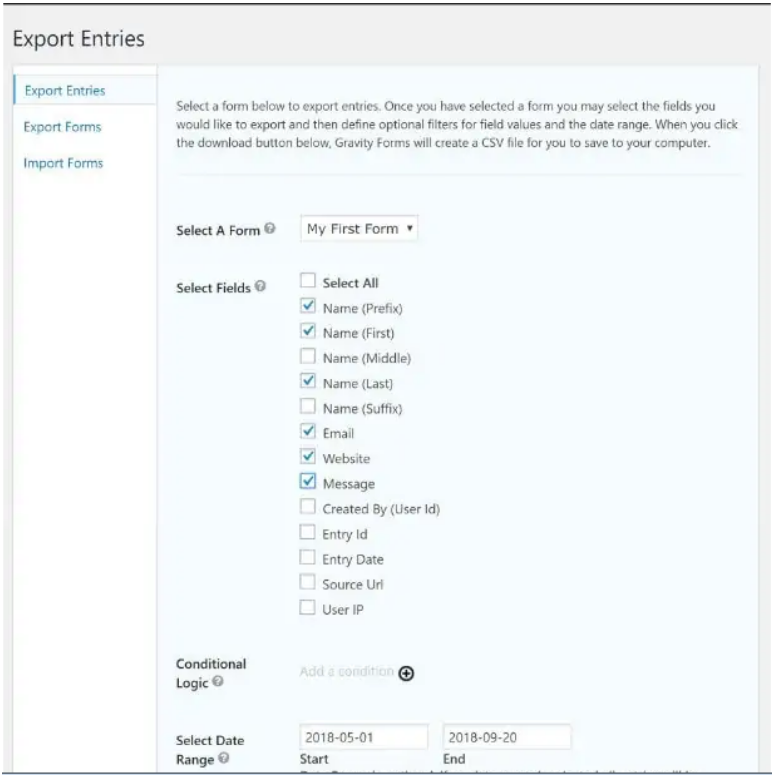 Gravity Forms is a great WordPress form plugin that offers you a larger selection of columns to display on your contact form. You may export form entries between two dates with Gravity Forms, specify which fields to include in the export, and use conditional logic to filter the data based on your needs. 
WPForms' Form Entry Export Tool is a little less complicated, and choosing the Download Export (CSV) button just downloads all of the entries for the selected form in CSV format, with no filtering options.
Exporting form entries in CSV format to use in programs like Google Sheets and Excel is simple with both of the WordPress contact forms. It's also worth noting that, in comparison to WPForms, Gravity Forms provides more data for each entry, such as the user's IP address and agent (browser).
Whether you're a MailChimp, Trello, Google form, or Slack friend, or you keep your tech stack simple, everyone has go-to tools that help run the business.
That's why both the plugins allow you to connect your forms plugin with your favorite apps and services with so many integrations. However, Gravity Forms has an upper hand over WPForms and allows you to integrate with a whole lot of services.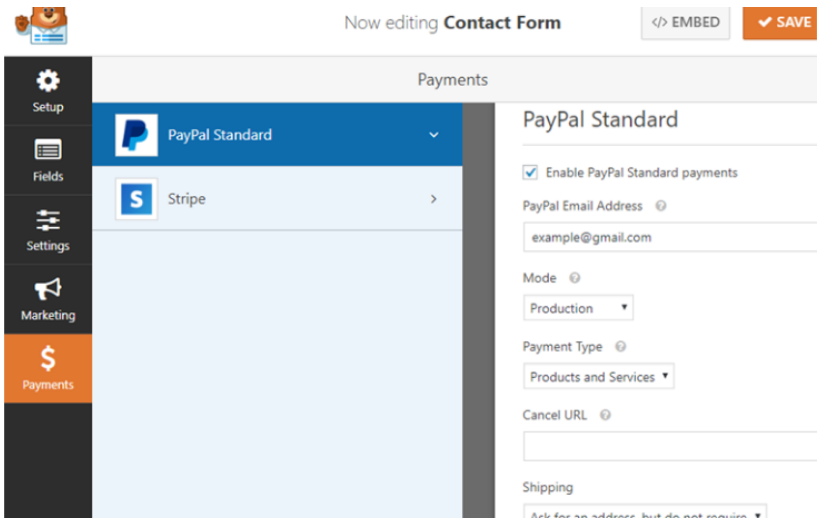 WPForms integrate with: 
PayPal addon
Stripe addon
Constant Contact integration
AWeber addon
MailChimp addon
GetResponse addon
Campaign Monitor addon
Drip addon
Zapier addon
Gravity Forms Integrations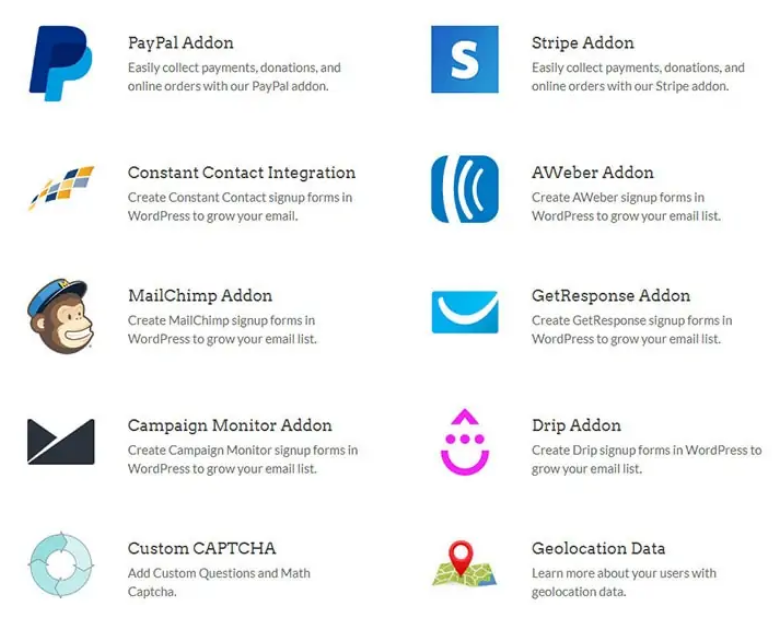 Basic add-ons –
ActiveCampaign
AWeber
Campaign Monitor
CleverReach
Constant Contact
Emma
GetResponse
iContact
Mad Mimi
MailChimp
Mailgun
Postmark
SendGrid

Pro add-ons –
Agile CRM
Batchbook
Breeze
Campfire
Capsule CRM
Dropbox
Freshbooks
Help Scout
Highrise
PayPal Payments Standard
Pipe Video Recording
Slack
Trello
Twilio
Zapier
Zoho CRM

Elite add-ons –
2Checkout
Authorize.net
PayPal Payments Pro
Stripe



Want to collect payments from apps like Stripe and PayPal or integrate with your CRM? Gravity Forms make it a breeze. As far as integrations with third-party apps are concerned, Gravity Forms stand out. 
It is also important to note that integration with both WPForms and Gravity Forms, is limited by the type of license you have. Not all add-ons and integrations are available on all plans. So, be sure to check their pricing page carefully before you purchase any plan.
Form Abandonment and Partial Entries
What about the leads who leave your site without filling up a contact form. You can shake an angry fist at them or you can analyze data about abandoned and partially filled-up forms for future insights. However, both plugins have different ways of saving that data after form submission. 
 WPForms plugin can save form entries automatically when users move their mouse pointer inside the browser viewport or click a link. Based on these triggers, this auto-save capability assumes that a user is about to leave your site, thus form data is saved immediately, no matter how much of it is filled in. 
Gravity Forms doesn't have an auto-save method that works when a user is about to leave the site. Instead, partial entries are stored when a user tries to submit a form without filling out all of the needed fields. Once the user has progressed past the first page of the form, this functionality also saves incomplete multi-page forms.
When comparing the two plugins based on user experience, it's simple to see that WPForms has the edge. This WordPress form plugin has a simple interface and allows you to design forms using drag-and-drop features. 
Gravity Forms also offers an easy-to-use drag-and-drop form builder that allows you to quickly create a WordPress form by adding form fields. When using Gravity Forms, however, there is a learning curve. Because there are no form templates accessible with Gravity Forms, you'll have to manually add the form fields every time.
In our opinion, WPForms stand out, as far as the user experience is concerned. 
Price; Gravity Forms Alternative is More Expensive
WPForms offers a variety of pricing options, ranging from entry-level to enterprise-level websites. Their most basic plan starts at $39 per year and is adequate for the majority of personal websites and blogs. You can start with a free version and upgrade to a premium plan at any time and make use of the super-flexible features.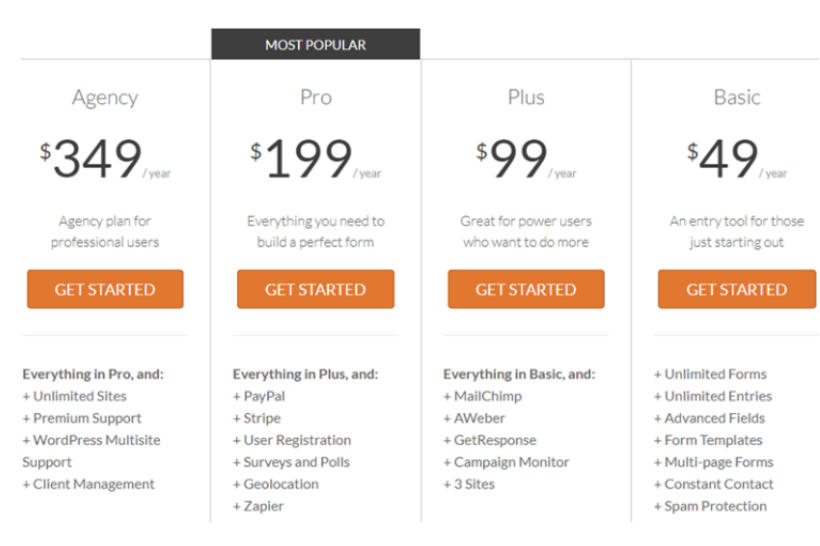 The simple answer is NO. In comparison with WPForms, the cost of Gravity Forms starts at $59 per year for a single site license. To add features, you'll need to switch to their Pro license at $159 or Elite license at $259 which are less expensive than the Pro and Elite Plans of WPForms.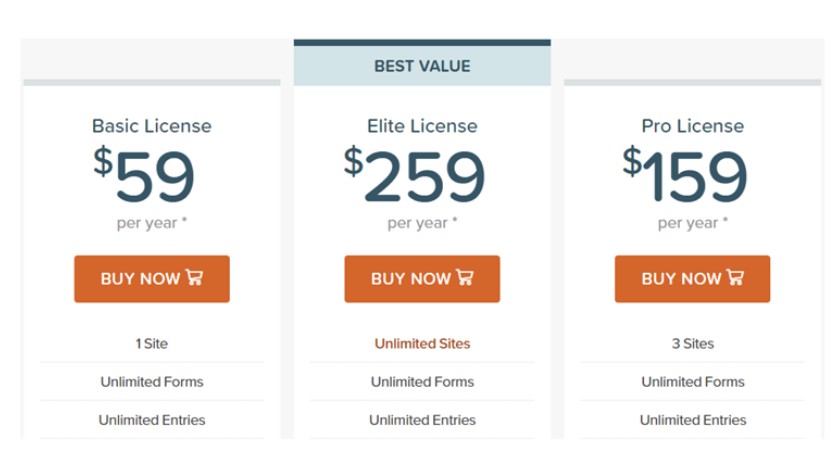 Documentation and Support
 The documentation and assistance provided by WPForms are well-known. Their features and plugins are thoroughly documented, which covers all you'll need to know about creating forms. You can also read more in-depth articles about each feature on their blog.
 Free users of WPForms can get support from the support page on the WordPress plugin repository while premium users can raise a support ticket to get priority support. 
 Gravity Forms also comes with thorough instructions that walk you through the process of creating forms. The amount of support they provide is determined by the license you purchase. Priority support is available with the Elite license, whereas other licenses have a one-year ticket-based support period.
Every time a lead fills out a form, a marketer gets her wings (or gets applause or whatever). Don't miss out on valuable data and lead info with over-priced, clunky forms. So which of the two plugins has the most to offer? 
 WPForms has a simple user interface, as compared to Gravity Forms. As far as the price is concerned, the paid versions of WPForms are more expensive than those of Gravity Forms but the free version of WP Forms can be a great option for beginners. 
 Gravity Forms has a wider variety of third-party add-ons that extend its usefulness considerably. When it comes to Form entry management, Gravity Forms offer a greater selection of columns to display on your form. In terms of customer support, WPForms stand out. 
 Choose your plugin according to your digital goals. It all depends on what features you need for your site.
 Once you've identified which plugin has the exact features you need, you won't be disappointed with either option.
Not happy with either of the two options? Try Formidable Forms or Ninja Form. 
Ready to buy this plugin?