7 Absolutely Amazing WordPress Quote Plugins To Increase Conversions
Simplify invoicing and drive growth with a WordPress quote Plugin
Transparency is essential for establishing trust in online businesses. Particularly in e-commerce, people are more likely to make a purchase or hire you and your team if they find out the honest and clear pricing structure of the products or services on a website. Furthermore, it weeds out the trend of bargaining, which makes shopping ambiguous and annoying. 
Making pricing information easily accessible could be a game-changer for small business owners. A WordPress quote plugin allows business owners to quickly provide precise estimates for the products and services their clients are interested in. By providing honest and accurate quotes upfront, they can win the trust of their customers, improve the online shopping experience and increase their sales.  
Let me share my own experience of online shopping.
 I wanted to buy fishing equipment online. Hooks, lines, floats, rods, reels, and bait, I needed them all. For this, I browsed through different online stores to find a better price and good quality. Each website had an ambiguous pricing structure. One website mentioned the price per object but could not give me an accurate quote of the total cost. If you are like me, bringing out the calculator and doing math is like getting your teeth pulled out at the dentist's office (No, thank you!)
Another prompted me to talk to the sales agent through a chat box to "Get Special Discounts on Bulk Shopping." When we started the chat, the sales agent asked about my budget, instead of giving me a price quote. To me, it seemed disingenuous and a demonstration of a lack of credibility, as budgets are never fixed and most customers can alter the budget based on what they are getting.
Finally, I landed on an online shop that had a WordPress quote plugin installed. In minutes, I got a quote for all the products I needed. I made the payment thankfully and received an online receipt in my email. 
If your experience resonates with mine, you will agree that having a WordPress quote plugin on your website has many advantages. 
Benefits of WordPress Quote Plugins
Some of the benefits of WordPress quote plugins are as follows:
Save Time with Instant Quote WordPress plugin
Pricing transparency saves time. Your customers would know the cost of your products and could make a purchase decision instantly.
Ensure Integrity with Quote Generator WordPress
Clear pricing is undeniable proof of your integrity. Being honest about your pricing and not adjusting it based on what you believe the client can afford. 
Reduce Bounce Rate with a Quote WordPress
The WordPress plugin reduces bounce rate, improves user experience, and encourages people to spend more time on your website.
Less Support Staff Needed with WordPress Quote Builder
You will need fewer support team members as there will be fewer requests and questions about the cost of different service packages/product types.
Best WordPress Quote Plugins
Since there are many quote plugins on the market, we did a run down and picked the 7 best plugins to be used on your website. These are as follows: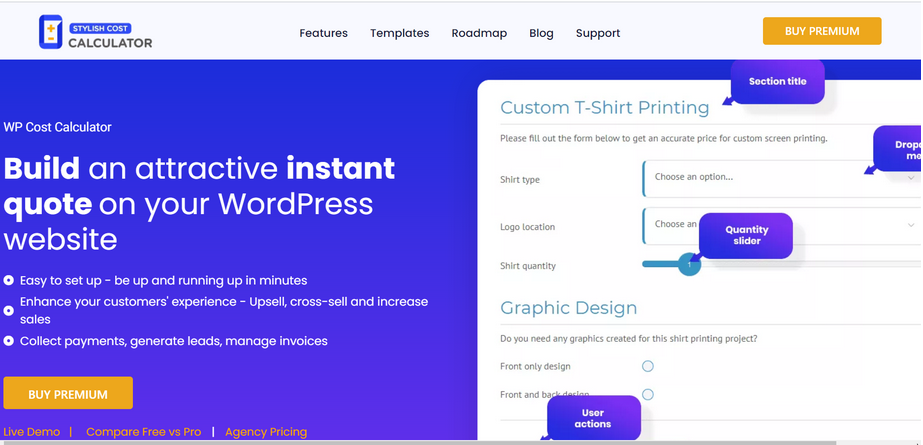 Let your clients get instant quotes and invoices while maintaining a clean and user-friendly website.
Invoicing your customers manually is about as high-tech as counting change with an abacus. 
The last thing you want to do when you're trying to close deals and grow your business is waste time dealing with invoices. Furthermore, providing all the costs upfront helps to improve your integrity as a brand. 
Automate billing processes on your WordPress website by instantly providing the cost of your products and services. Your customers can build an instant quote form on your website. Connecting your calculator with PayPal, Stripe, or Woocommerce can do all the leg work for you. You can easily accept payments through a variety of channels.
Alternatively, convert this into a lead generation form by removing the payment buttons and total price, and encourage your users to provide you with their email address to download their PDF quote form.
Some of the key features of the Stylish Cost Calculator are: 
Instant Pricing Information (Cost Calculator) 
Listed Detailed List (Invoice Style Layouts)
Receive Funds with Buy Now Buttons (Optional) 
Gather information for marketing purposes
The Stylish Cost Calculator is very user-friendly. Simply paste the shortcode anywhere on your website to place the calculator there. It is completely customizable-you can add sliders, dropdowns, and checkboxes that your customers can use to receive a customized quote by inputting their unique information (which can easily be printed or sent to an email address). 
Generate leads by removing the total price to entice users to enter their email address before seeing the price, and much more!
It is ideal for online service providers, freelancers, as well as businesses selling products and goods. 
Price 
It costs $99 billed annually.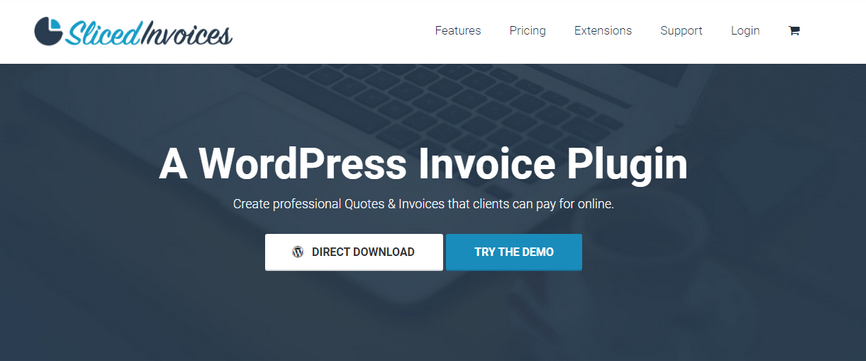 Manage Invoicing and Receive Payments from Clients like a Breeze 
Sliced Invoices is a quote WordPress plugin that allows your customers to instantly see the cost of your products and services while receiving payments. One of its major advantages is the ability to track each contact through an easy-to-use dashboard.
Although it does not connect with WooCommerce as well as other payment gateways, its comprehensive invoicing and payment management system makes it a better alternative for freelancers, or any other business that provides services rather than physical goods. 
Some of the key features of Sliced Invoices are: 
Create personalized quotations and invoice templates that fit your company's identity.
Extensive visual reporting capabilities offer a summary of quotations and revenue produced.
It accepts card payments through PayPal integration.
On the downside, the multilingual translation function has the potential to create incorrect translations.
Price
Sliced Invoices is a free quote collection plugin. You may also subscribe to a $79 per year Freelancer Bundle, which adds extra features and capabilities.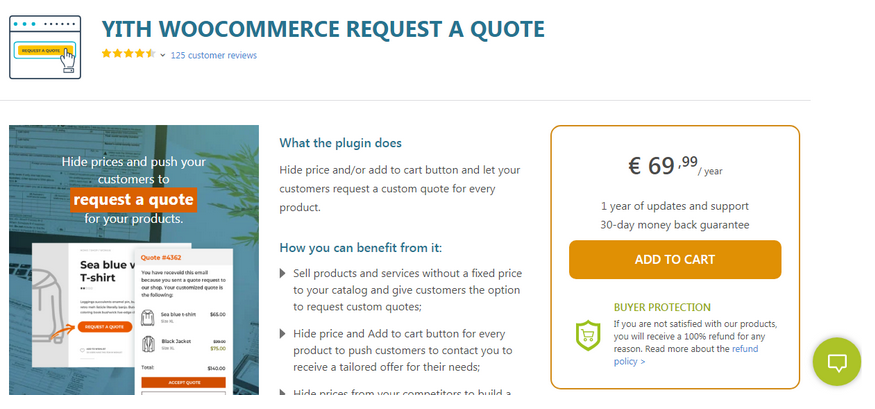 Set up the Pricing Plugin with Zero Coding 
Does coding make you feel like running in a theme park with dinosaurs chasing you? 
Yith can help. If you want a no-setup solution, this may be a great way to provide invoices to your customers.
YITH can be integrated with a WooCommerce store. It has a lot of positive feedback. You can utilize extensions to extend the plugin's functionality. 
This plugin's main feature is that it allows you to conceal pricing and/or add to cart buttons and allows your clients to request a bespoke quote for each product. This will work if you don't want to mention the prices of your products or services upfront. 
Price
There are two types of licenses: free and premium (starting at $59/site license).
Are you looking to add a cost calculator to your WordPress website today?
Try Stylish Cost Calculator for Free

Customize your Quotes with this Popular Plugin 
If you believe in making your invoices and quotes part of your branding materials, this plugin can help. When compared to other free WordPress request and quote plugins, the customization possibilities are larger in terms of both quality and quantity, allowing you total control over your quotation process without spending a dime on a premium upgrade.
Although its back-end interface may appear a little crude in comparison to more recently released plugins, it is still quite straightforward to use when creating custom quotation forms for your eCommerce website.
Some of its benefits are: 
With the integration of other plugins, you may import, export, and update quotations to and from your WordPress site and other systems.
When you get a new quotation request, you will receive an automatic notification.
It is quite flexible and lets you customize your quotes. 
On the downside, their customer service is not very responsive. Furthermore, the plugin is not very user-friendly for non-technical people.
Price
Request a Quote is a free service.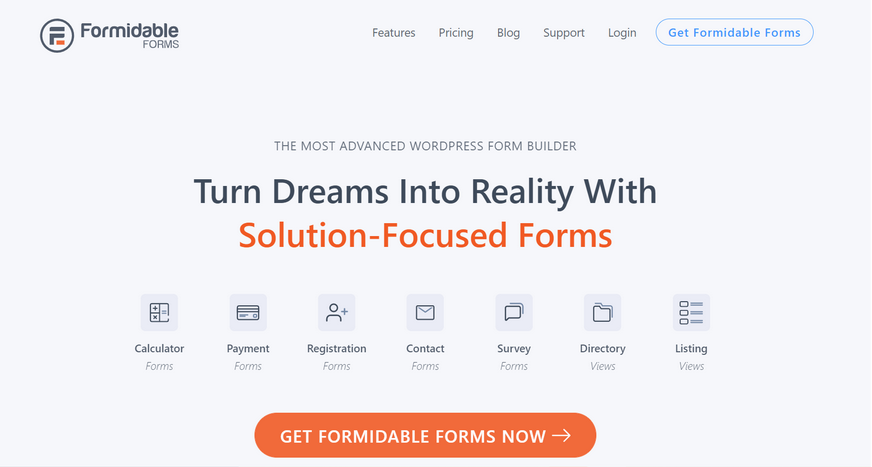 Create a Quote Request Form for Your Website with this Plugin
Formidable Form is a WordPress advanced forms plugin. It has robust features that allow it to be used to build online calculators.
You can use Formidable Forms' Request a Quote form to place a calculator on your website. Your customers can use it to create a quote for themselves. Because Formidable Forms are so adaptable, you can add as many variables as you want.
The quote generated by Formidable Forms can then be emailed to your customer. Formidable Forms also includes visual design tools to help you make your request for a quote form look appealing.
Price:
The cost of Formidable Forms is $99.38/year.

Make the process of invoicing easier with Wisdm Product Enquiry Pro
Wisdm Product Enquiry Pro is a WordPress quotation plugin that provides you with all of the tools you need to construct a completely personalized quote-request form. The form may be used to request a quotation on numerous goods and variations of the same item (different sized clothes, for example), as well as to offer an automatic quote from within the WordPress dashboard, allowing you to answer queries without leaving your website.
Some of its advantages are: 
Both the front and back ends are attractively designed.
WPML integration allows for simple translations.
It works in conjunction with the WISDM product catalog to convert your business into a member-only site to encourage sign-ups.
Besides being a great plug-in, it is a little bit expensive. Furthermore, a few users suggest that it is not user-friendly. 
Price
One business license costs $80 annually.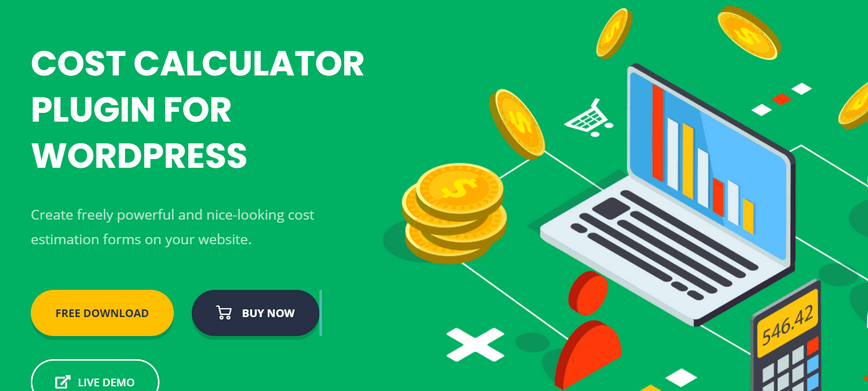 Convert your quotes into Invoices with a single click 
If you are looking for a smart, simple tool that allows you to easily create price estimation forms to provide your clients with information about the cost of your services and products, you have come to the right place.
The WP Cost Calculator enables you to create any type of estimation form in a few simple steps. The plugin includes a drag-and-drop calculation form builder. You can also create an unlimited number of calculation forms and place them on any page or post.
You can also create your calculation formula with the ability to add, subtract, multiply, and divide form elements. Using shortcodes, you can integrate your forms into your pages.
This plugin is ideal for selling highly customizable products or services or providing mathematical assistance to your site's visitors:
Car Rental Firms 
Graphic and Web Designers
Medical Services 
Retail & Small Business
SEO Firms 
The Printing Company
Price
It costs $29.99 billed annually. 
Are you looking to add a cost calculator to your WordPress website today?
Try Stylish Cost Calculator for Free
Which one is your favorite plugin?
WordPress quote plugins make it simple to create quote and estimate forms that provide visitors with instant cost estimates. They can then decide whether or not to commit to a project.
Out of these 7 plugins, our top pick is Stylish Cost Calculator for its extensive features, user-friendliness, and customization options, which make it a great choice for your WordPress website. It checks all the right boxes in terms of simplicity, functionality, and affordability. 
What is your favorite quote plugin for WordPress? Is it one of the tools mentioned above, or is there another tool you believe we left out of our list? Please let us know in the comments section below.