8 Types Of Effective Sales Funnels That Convert Extremely Well
Do you know that a good sales funnel will convert more customers and makes you earn more profit? There are so many types of sales funnels but which one is the best for your business? This article will discuss different types of sales funnels and how to make them. 
What's A Sales Funnel Anyway?
The sales Funnel is the visual representation of the customer journey from awareness to action. When a potential customer lands on your website, he doesn't convert on the same day. On the contrary, he goes through various stages before making a purchase.
A sales funnel helps marketers identify which stage of this journey the customer is at. It also helps them to see how well each step of the sales process is working and to make adjustments for improving conversions.
Sales funnel stages can vary from one business to another but generally, they are divided into 4 main sections:
Awareness
Interest
Decision
Action
During each of the stages of a basic sales funnel, companies use various metrics to analyze the success of a sales cycle.
Why Is Implementing A Sales Funnel Important?
Here are some reasons why you should create an effective sales funnel.
Identify And Qualify Leads
You might attract tons of traffic to your website but is it the right kind of traffic? Does it have the potential to convert? The greatest benefit of a well-built sales funnel is to take prospective customers in and nurture them into true customers. You understand your buyer profile and decide whether the person you are selling to has the potential for conversion.   
Better Customer Engagement And Retention
Once you identify at which stage your lead is, you can provide him with the right kind of marketing material. This will not only retain the interest of your potential buyers but also lead to conversion. 
Companies that have a well-defined, successful sales funnel experience 4 to 10 times higher revenue. Similarly, Click Funnels, reported that 1% of its customers generated over a million dollars in revenue generation using well-defined sales funnels. 
Work Efficiency and Productivity
Sales funnels can track and measure the success of your sales and marketing efforts. It also helps in setting clear goals and identifying the steps needed for the achievement of those goals. This improves the efficiency and productivity of your business.
Increased Brand Awareness
Your business becomes more visible in the marketplace if you have a well-executed sales funnel. You can use the right kind of content to attract and convert the right kind of buyer. 
There are different types of sales funnels. Depending on your business model and resources, you can choose a sales funnel model that is right for you.  
Try the best leads generator WordPress plugin
Increase your sales leads with just one click by downloading our free version
1. Lead generation funnel
This sales funnel can work for a variety of businesses. The main aim of this funnel is to get more leads. The leads can be generated from ads as well as organically. 
Organic channels refer to all the marketing efforts that do not require spending money e.g. word of mouth, social media etc. Paid channels refer to advertisements.   
Why Lead Generation Funnels Are Important?
The greatest strength of lead generation funnels is that it attracts plenty of leads. The more leads it attracts, the greater the chances are for more conversions. Secondly, it provides valuable information about your target customers. You can know more about the problem that your audience face and how you could provide a better solution.
Let us give an example of Guitar Mastery Method here. When a prospect lands on their website, they click a CTA button that leads them to a survey form.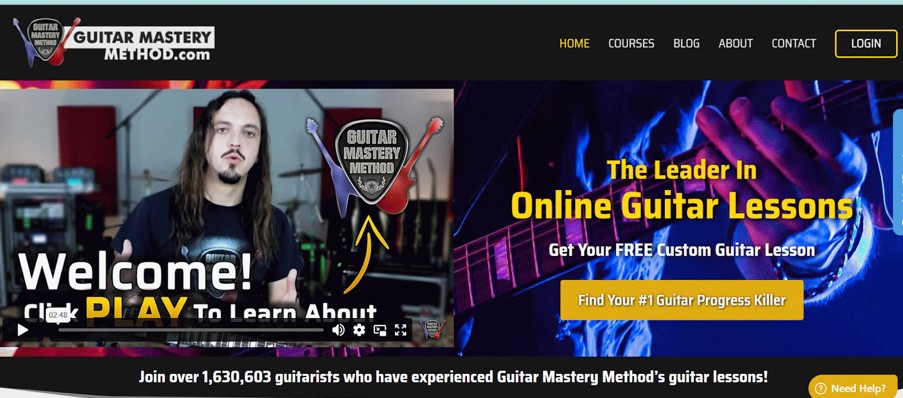 After filling up a survey, their performance and level are assessed and they are asked to watch a set of free videos. To watch those videos, they have to add their email address. Once they provide their email, the leads are further pushed down through the funnel by relevant and helpful emails and content.    
How can you make this funnel?
Attract your potential customers with a great offer. This could be a free trial, downloading a template, downloading the results from an interactive calculator, or product quizzes.
You need to make sure that your potential customers see that ad, offer or article. One way of doing it is to use a pop-up ad to display it. You can also use decent-sized buttons that stand out due to their distinctive colour. 
Landing page showing off the offer
Relevant videos, pictures, and timers are good sources for showing off your offer. One thing you need to keep in mind is that they should highlight your offer rather than distract from it. 
This type of funnel helps business owners to attract potential clients with the help of the content. It involves producing relevant, fresh and valuable content that provides solutions to the problems of your audience. The main aim of this funnel is to use organic content to generate inbound traffic, leads and sales.
Why Content Funnels Are Important?
This type of funnel enables you to get more and more sales even when you are away. Let us give an example of how SemRush uses the content funnel to convert leads.  
SemRush is an SEO tool that helps in optimizing web content. The people who use that tool are either writers or digital marketers. To prove themselves helpful to their target audience, they published the article "How to become a better writer-14 tips." Besides providing helpful information, the article is full of references to its tools and the services it provides. 

The readers are likely to be aware of most of the features of the tool once they finish reading the article. The "get trial" button asks the readers to add their email addresses. They keep on receiving relevant emails to convert them to customers. 
A unique and relevant topic
For making a content funnel select a topic which is "in the air" these days. The topic must address the challenges and struggles of the target audience. 
Do proper research to make it relevant and fresh. Add extra effort and flavour to your work, outranking the previous ones.
Keep your article inbound and free. Share it on relevant social media groups. If you have a budget, you can create ads. 
You can add email-gated quizzes, webinar invitations and calculators to your content. This would make it easier for the target audience to leave their contact information. 
3. Webinar Sign up Funnel
The webinar plays the role of the lead magnet in this kind of funnel. First, the target audience is directed to your landing page where they can sign up for the webinar. They would have to provide their email address to attend the webinar. During the webinar, they are constantly engaged. After the webinar, they are likely to convert. 
Why are Webinar funnels important?
Webinars involve both video and audio. You can make your message effective by using slides, pictures, videos etc. A survey reveals that 48% of marketers believe that webinars can play an important role in conversion. 
Another reason for the success of webinar funnels is that it attracts leads that have more potential for conversion. Only the people who are interested in purchasing a product will take the time to attend the live webinar.  
Let us give an example of how Shopify uses webinar funnels to convert more leads. When someone lands on their website, they are encouraged to sign up for free training by providing their email. Once they enter their email, they can attend a series of webinars for beginners in e-commerce. They also receive relevant emails to convert them.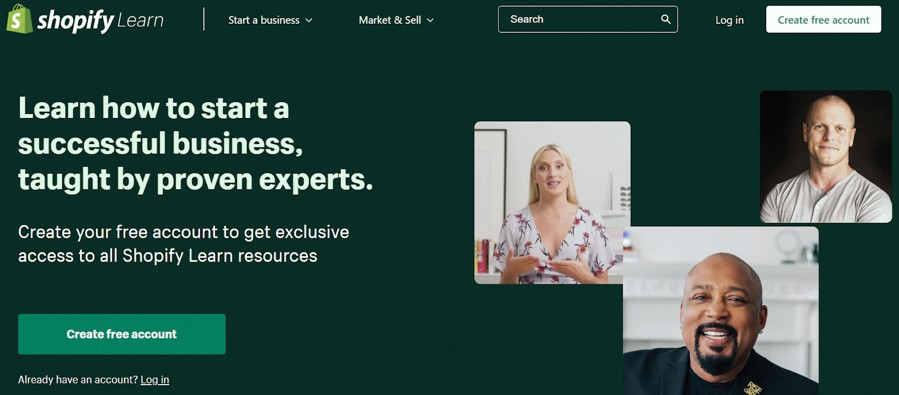 How to make a Webinar Funnel?
Select a topic that is a piece of cake for you. Provide all the important information regarding the topic to your target audience in a simple way. Use images, slides and videos for effective communication. 
Using the right platform to access webinars is very important. Reviews on webinar software will help you in choosing the right software for your webinar. 
Bumper offer for the attendees
Add an incentive for the people who attend the webinar. This could be discount codes or coupons. Most of the webinar software have an option of displaying an offer to the attendants. You can also verbally communicate about the offer.
Reminders and follow-up emails
You need to send confirmation emails to all the registered attendants. Send them a reminder 24 hours before the webinar. The second reminder should be sent one hour before going live. You should also send a webinar recording to the attendants and people who missed it                      
4. Sales Call Booking Funnel
In this type of funnel, the potential customers are introduced to your products or services during a phone call. This usually happens in steps. First, you need to provide a solution to one of the problems your potential customers are facing. Later on, you can sell your products or services. 
Call booking funnels have the goal of keeping your sales calendar full. It results in a higher booking rate.
Why Are Sales Call Booking Funnels Important?
The sales call booking funnel automates the bookings and follow-ups. It is a great medium for saving time. It offers automatic reminders and a very smooth booking process. This funnel initiates more sales even from the limited contact list.
Twilio's website makes smart use of sales call booking funnels to get more leads. How does it work? First, a prospective customer lands on their website. He can either create a free account or request to talk to a sales representative. 

The distinctive Call-to-Action Buttons can guide a prospect on where to go next. Once he clicks the button "Talk to a sales rep" he is prompted to book an appointment for a phone call. During the phone call, the sales rep can answer all the queries as well as try to sell the desired product or service. 
How To Build This Funnel?
Explain to the people why should they call you and what to expect. Which problems are you going to solve?
 You should emphasize and highlight the benefits of your calls. For example instead of using the phrase " book a call" use " free expert advice." 
Place the call to action clearly on your landing page. These incentives should also be embedded in your blog article. Link them in your email using a bright button. 
Email reminders before calls
Send them an email reminder 1 hour before the call. In case the leads miss your call, send them an automated email reminder for a reschedule.
It is a funnel specifically designed for new users. The onboarding funnel helps newcomers to get started with your product or service. The ultimate goal of onboarding funnels is to convert a free trial user into a paying customer.
Why Onboarding Funnels Are Important?
This type of funnel helps you learn more about your potential customers. Based on the responses of your customers, you can either lead them to a landing page or send them relevant emails and content. 
Keto Cycle uses onboarding funnels on its home page. When someone lands on their website, they are prompted to fill in survey forms. Based on their responses they are led to different landing pages.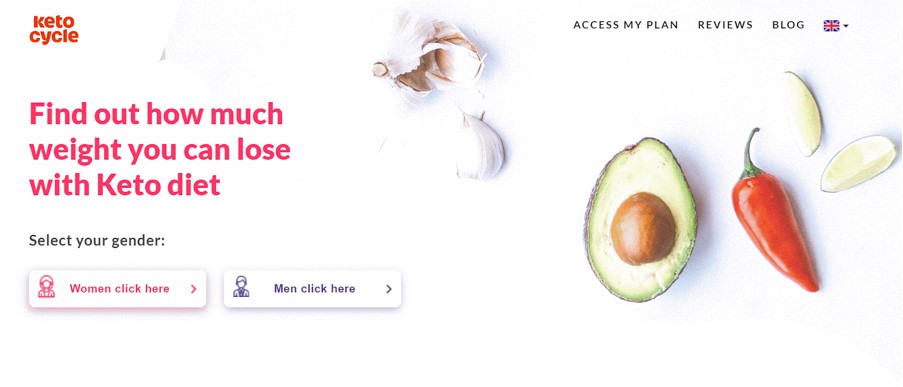 First of all, you need to find out what your customers are expecting from you. This in turn will help you in providing them with a personalized experience. Set up some survey questions to know more about your target audience. 
A quick fun welcome survey
Add animations and gifts. Improve the user experience by addressing your customers by their first names. You should also give them the option of skipping irrelevant questions and when needed you can ask follow-up questions.
Customized content and solutions to it
After identifying different customers, group them according to their types. Each group must be sent different content, addressing problems and suggesting customized solutions.
Try the best leads generator WordPress plugin
Increase your sales leads with just one click by downloading our free version
Reviews are an essential element of your business. According to a study, 88% of consumers trust online reviews and consider them equivalent to personal recommendations.
A review funnel helps you in managing online reviews for your business and customers simply and easily. The ultimate aim of this funnel is to keep negative feedback away from the public eye, and only keep positive feedback visible to the public.
Why Review Funnels Are Important?
A well-built review funnel can increase the number of positive reviews. Rialto Marketing has a smart Review Funnel. They direct their customer to a landing page for reviewing their service on any platform the customer prefers. They also give the option to submit negative feedback privately.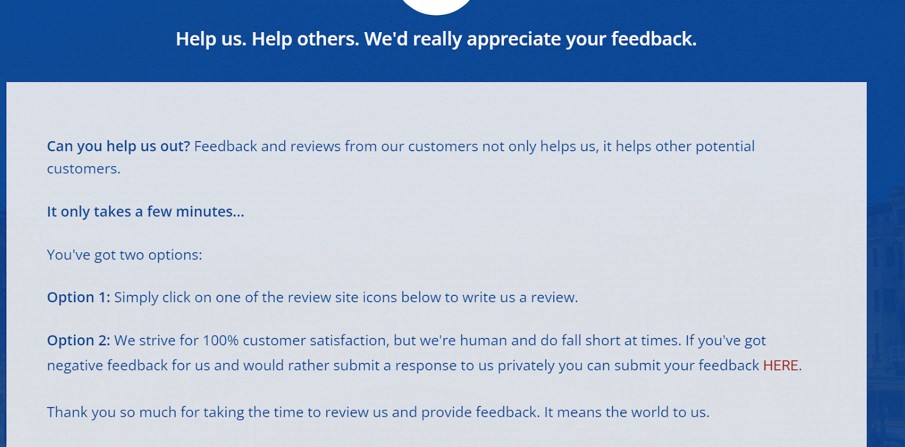 How to build this funnel?
After a customer has purchased from you, email him a few questions in the form of a survey. Find out about their experience with your product and identify the customers willing to give a positive review. For example "how good was your experience with our brand on a scale from 1-10"?
A feedback survey with an incentive
Provide an incentive for the completion of the survey. For example, offering a discount or a freebie.
Lead them to a reputed review site
Once you have identified people who are willing to leave a positive review, lead them to a reputed site like Google or Yelp. 
7. Limited time offer Sales Funnel
Limited time offers sales work on the principle of scarcity and urgency. Christmas sales and Black Friday sales are the best examples of limited-time offer sales. Limited-time offer sales funnel creates this urgency throughout the year by converting more prospects into buyers. This type of sales funnels aims at selling more things in a short period by creating urgency.
Why Are Limited Time Sales Funnels Important?
In a limited-time offer sale, customers try different products from new stores. As the prices are very low so there is less risk involved and they are quite willing to make their first purchase. Limited sale timings urge the customers to avail of the deals. When you inform them about their limited-time sales. they feel valued and are more likely to convert. 
1 Body uses an exit intent pop-up that offers free shipping. There is a fifteen-minute countdown clock that prompts the prospects to quickly complete the purchase.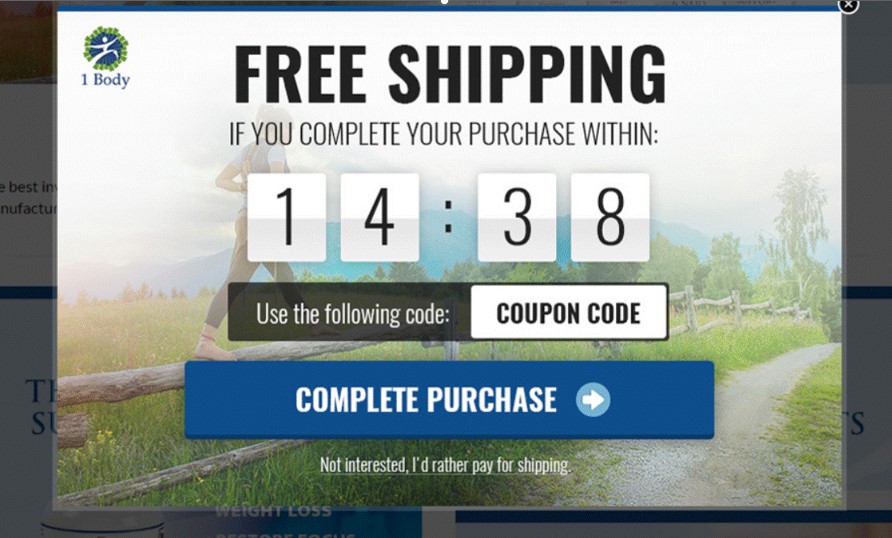 How to build this funnel?
An offer should be launched that must have an incentive and should expire soon. For example "Last chance to avail flat 75% on your favourite clothes before the Christmas sale ends."
Make limited-time sales offer visible to as many people as possible. Social media campaigns, ads and emails to your website visitors would help a lot in this.
Create a conversion-focused lead page. All the prospects should be directed towards this page where they could grab the offer and pay. 
The cancellation funnel helps you to identify the leads interested in your event but have not completed their registrations. It also tells us which leads are ready to purchase tickets or pre-register. The goal of this funnel is to lower the churn rate and bring the customers back to the business. 
Why These Funnels Are Important?
A cancellation funnel is very important for any business. It finds out why your customers want to stop working with you and convinces them to stay with you. They are a better option than exit surveys that only find out the reason for the cancellation of service. These funnels can help to keep the customers from cancellations by providing better solutions. 
Slack makes ingenious use of this funnel. First, they let their customers know all the details involved in downgrading to the free account. Next, they offer them to fill in an exit survey to know about their problems. If the users find the tool or platform too difficult to use, they direct them to the support service. Sometimes they also evolve tailored offers to make the existing customers stay.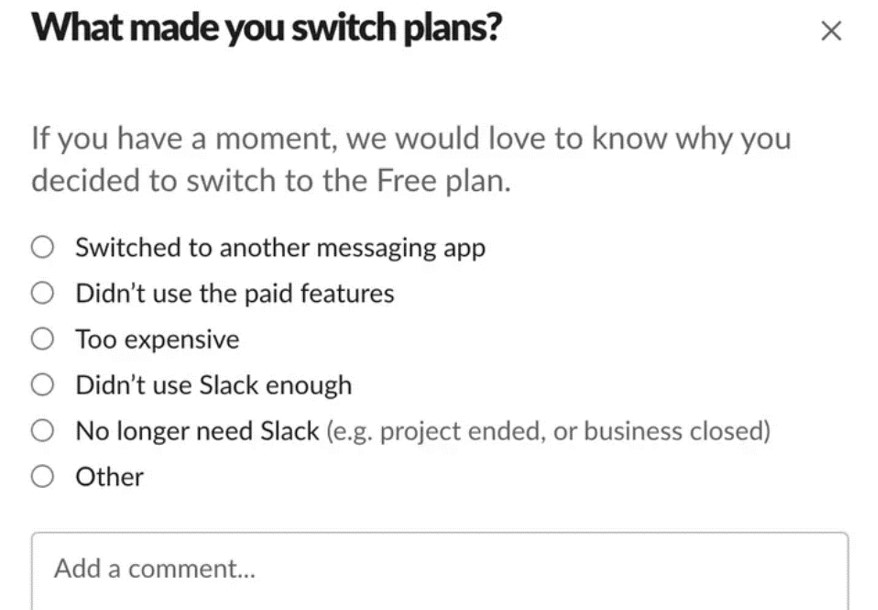 How to construct this funnel?
Ask them questions that provide information about where your prospects are struggling. Once you know their problems, offer them solutions. 
Alternatives to Cancellation
If the clients are given options, they could even pause their subscriptions instead of cancellations. Some clients even keep on paying for the subscription if a small discount is offered to them.
How Can You Build An Outstanding Sales Funnel With Stylish Cost Calculator?
Do you know that Stylish Cost Calculator is a great sales funnel builder? Keep reading to find out how can you build a great sales funnel in 3 easy steps with Stylish Cost Calculator. 
How Can You Use The Stylish Cost Calculator To Build A Sales Funnel?
Now let us discuss how can you build your sales funnel with the help of Stylish Cost Calculator.
Create a landing page that shows your offer. Include testimonials, videos and blog posts to show your offerings. 
Build a payment form. Download the free version to get started. Buy the premium version to unlock all the features. 
Create an enticing offer on your landing page. It could also be a frequently asked question followed by a downloadable quote. 
Some of the examples could be:  
It could also be a prompt to make use of a limited-time offer or a free service. 
Free delivery- Get a quote today. 
Bulk discounts, Cheap prices, and Great quality! Find out how much will you save by ordering T.Shirts in bulk.    
Another way to present your enticing offer is in the form of an ad. Create an ad that leads the audience to the online calculator. You can embed it as a pop-up on your website to attract the attention of your audience. Once they click it, they are led to the payment form created with the Stylish Cost Calculator.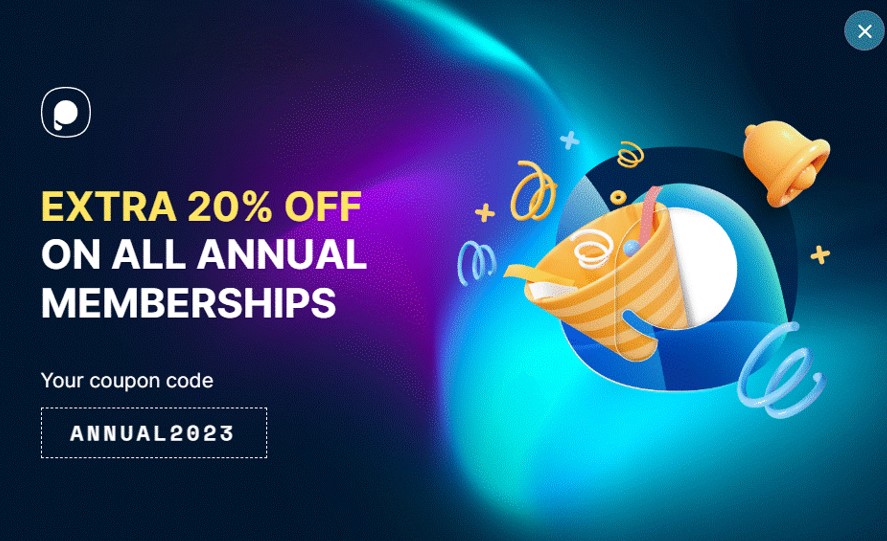 The clients fill in their emails to download their quotes. They can be further emailed relevant content and offers for conversion. 
It depends. Choose the sales funnel that aligns with your goals and business models for maximum output. 
Most of the sales funnels start with a questionnaire or a survey. Depending on your goals the next steps could vary. 
The sales funnel begins at the end of the marketing funnel. The marketing funnel can build a prospect's interest in your brand and guides them from their first interaction to the point when they have some interest in knowing about your products and services.
In the top levels of a sales funnel, the marketing team is heavily involved whereas, in the middle of the funnel, the sales team steps in to close the deal.
Try the best leads generator WordPress plugin
Increase your sales leads with just one click by downloading our free version