Top 7 WooCommerce Price Calculator Plugins for 2022
Digital retail is essential for the growth of a business. However, just setting up an e-commerce store is not enough. Providing a great user experience is necessary to convert visitors into customers.
Imagine buying a bottle of cleansing milk for $15 from ABC online store. You find your product and put it into the cart, but then you look at the suggestions to pair it with. Well, you are recommended to buy an aloe vera scrub and Vitamin C serum as well. Who are you to fight a skincare establishment? You are tempted to put these into the cart too, but you are wondering how much it would cost to buy all three items plus ship them to your doorstep. If you do not find this information within the next 5 seconds, chances are you will leave the website to find your product from another store. Having a good UX design and providing answers to all the questions from prospects faster than ever is very important. 
According to Forrester Research, 50% of the potential sales are lost because the website visitors fail to find their required information on an e-commerce site. Similarly, 45% of US customers abandon a purchase if they have a question about a product but they couldn't find an answer to it. That's why it's very important to have a good UX design on your website that provides all the price-related information promptly to your customers.
Why use a WooCommerce Calculator plugin on your website?
Calculators improve the functionality of your WooCommerce website in a variety of ways. Some of the benefits of WooCommerce calculators are as follows:
They are a great way to increase conversions. They promptly answer the price-related queries and speed up the sales process.
They make your website look neat and provide you with more control over the sales process. 
They are easy to install and do not require knowledge of coding. 
They allow you to grab the email address of your prospects, as they download the quote. You can easily build an email list to distribute your promotional material. 
There are numerous WooCommerce plug-ins available. This article will discuss the seven best WooCommerce Price Calculator plugins for you to pick the one according to your needs.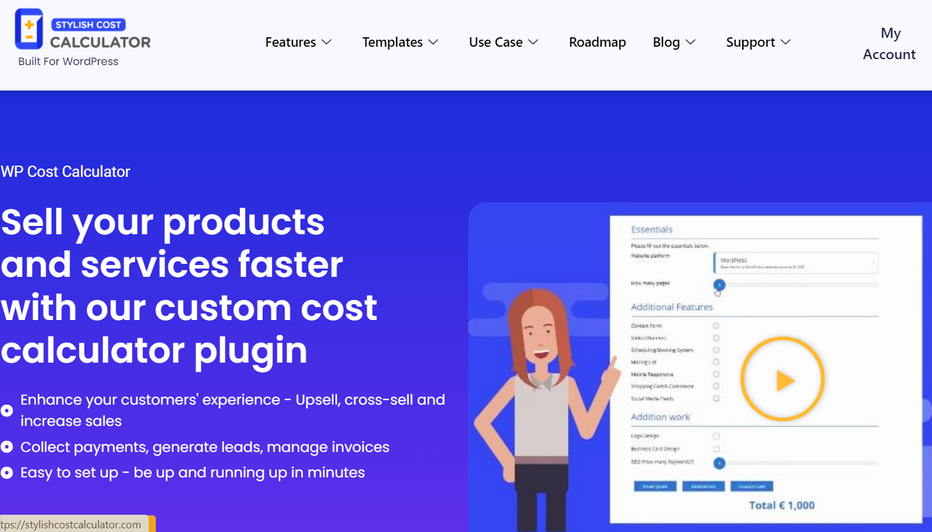 Enhance Customers' Experience, Generate Leads, and Sell with Style 
The Stylish Cost Calculator WordPress plugin is ideal for expanding the functionality of your WooCommerce store. Users can personalize their quotes and orders, which results in a better user experience on your website. They will then click the add-to-cart button and be directed to the Woocommerce check-out page.
The plugin allows you to create a beautiful user interface for your clients to customize their orders. Consequently, you can sell the product faster, every time.
As a seller, you can better control the selling process through this plugin in two different ways: 
When a prospect lands on your website, you can control which products and services they see.
It also allows you to sell complementary products and services.
Setting up this plugin is also very convenient. Simply create a product in the WooCommerce store and activate WooCommerce on your calculator. Select the dropdown in each element to link to an existing product in WooCommerce. And you are done!
The plugin reduces the hassle and allows you to manage customers, leads, proposals, and sales all in one area. Similarly, customer relationship management is easier with this plugin. The quote and sales management dashboards allow you to keep track of sales and the current stage the customer is in. The plugin also shows pre-sales and after-sales invoices. 
Pros:
Excellent customer service 

Offers multiple design layouts 

Attractive instant quotes with zero coding knowledge. 

More control over the selling process 


Cons:
You need the pro-version to save the quote, print it, email it, etc. The free version doesn't offer a lot of options.
Are you looking to add a cost calculator to your WordPress website today?
Try Stylish Cost Calculator for Free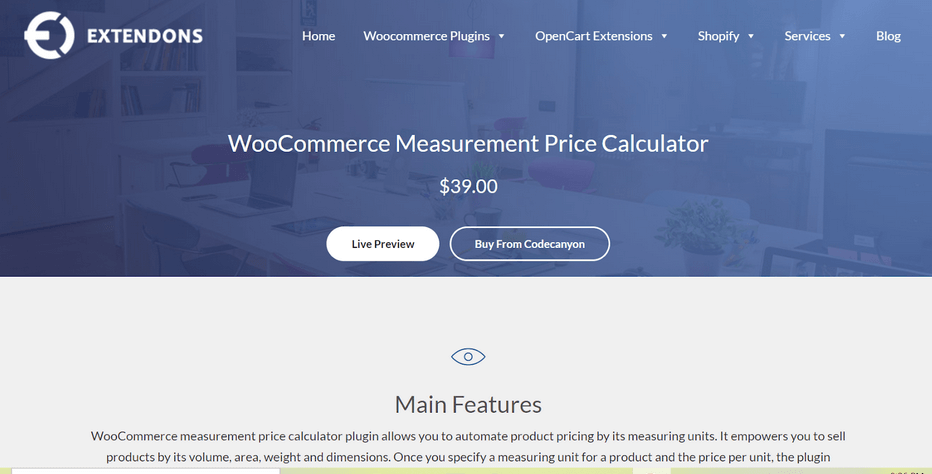 Start Selling in Various Units with Extendons Plugin 
This plugin enables you to simply sell things at a fixed price per measurement unit. It enables e-commerce businesses to offer things based on weight, volume, and area. You may sell nearly any type of product in your e-store with this plugin, such as sugar in kilograms, drinks, and beverages in liters, cables or wires by the meter, wallpapers by the square foot, and so on. When you define a product's measuring unit and price per unit, the plugin automatically determines the total amount a user must pay.
Another benefit of this plugin is that it allows you to construct a pricing table for each product that specifies the price per unit as well as a reduced price for a certain number of units. 
The plugin can compute the total price by measuring the units requested by the consumer. It has a quantity-based calculating mechanism that automatically calculates the price based on the amount specified by the user.
Pros:
The plugin comes with fast and reliable customer support. 

This plugin is 3 times cheaper than some other similar plugins and offers more functions and options.

It allows you to sell products by area, weight, and volume.
 
Cons:
Several online reviews reported bugs and requested a refund. The most common problems reported were the inability to add products sold by width and length into the cart.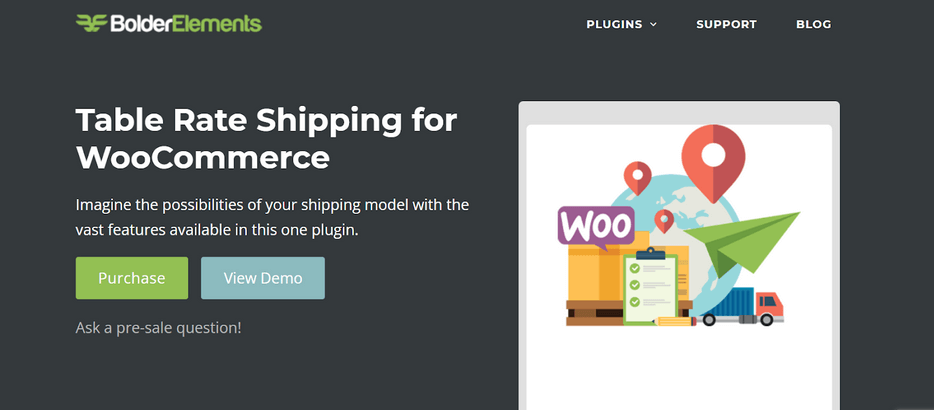 A Powerful Conditional Calculator with Loads of Options 
Shipping prices might quickly get confusing. Having a powerful conditional calculator plugin, such as Table Rate Shipping for WooCommerce, takes the guesswork out of calculating shipping costs and estimations.
This WooCommerce shipping calculator plugin may add various prices for a single client, based on a range of admin-defined factors. Shipping destination, cart subtotal, item shipping class, price, weight, and a variety of other factors can be included.
It is translation-ready, multilingually compatible, accepts numerous currencies, and includes price choices other than flat rates. The plugin is developer-friendly. It has a clean code with plenty of filters, and action hooks to customize its features. 
Pros: 
This table rate method has the most comprehensive list of conditions and pricing options built into the core.

The plugin is constantly being updated. This gives you the ability to opt in to some features you might find useful.


Cons: 
The plugin doesn't run well with a few third-party plugins. 

A few customer reviews point out that the plugin doesn't support free shipping based on an interval of zip codes. The settings get a bit complicated if you wish to offer free shipping for orders from certain zip codes.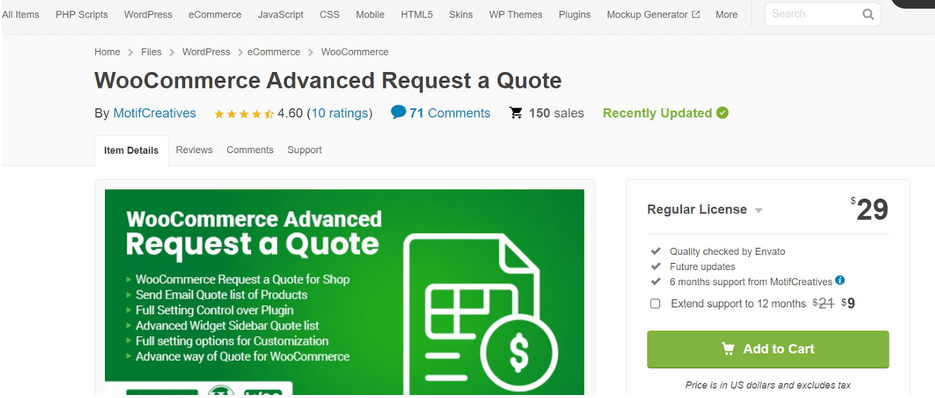 Customize the Shopping Experience for Each Client with Various Options
The WooCommerce Advanced Request a Quote plugin allows a customer or a visitor to obtain a price for the items on their wish list. This plugin enables the site owner to provide consumers with reduced, promotional, unique customer, or normal customer pricing. Customers/visitors can also haggle for a fair price, and the site owner has the authority to accept or reject the offer.
The plugin has an integrated email form that allows buyers to communicate product specifications, request a custom quote, or make any other inquiries to the site owner for a more professional experience. The plugin allows site owners to show an "add to quote' button on the shop page or a product single page. Similarly, you can also hide the button for some products. 
The plugin offers a lot of options for customization. You can hide prices on all products on your site. You can also choose to hide or set information in the quote list, like SKU, image, or price. Using a shortcode, the plugin may be shown on any page.
Pros: 
It enables the customer or visitor to get the rate for the products inside their wish list. 

This plugin allows the site owner to give out discounted, promotional, special customer, or regular customer prices to the customers according to the situation. 


Cons:
The plugin is quite new and not many people have reviewed it. It doesn't seem to be very popular either. If you wish to use a tried and tested plugin, this might not be a very good choice. 
Are you looking to add a cost calculator to your WordPress website today?
Try Stylish Cost Calculator for Free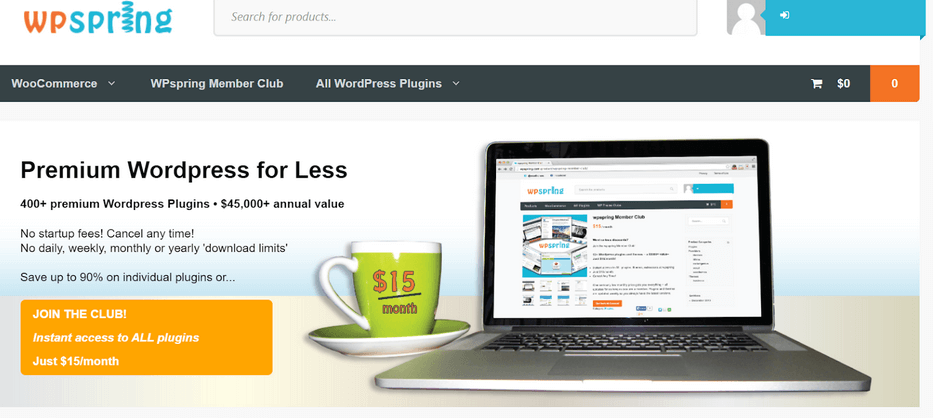 An Affordable Plugin with Two Calculator Options
The WP Spring WooCommerce price calculator assists you in selling products based on price per unit measurements. Add this calculator to your product pages and let your customers calculate the number of items they require. You can sell products based on their area, weight, volume, and dimensions using the WooCommerce price calculator plugin.
There are two calculator options in this extension. The first is a quantity-based calculator, and the second is a user-defined calculator. This plugin can help you sell products such as tiles by the box, wallpaper by the square foot, fabric by the yard, and mulch by the cubic yard, among others. 
Pros:
The calculator is very inexpensive as compared to other woo-commerce cost calculator plugins. 

The plugin is very convenient as it offers two types of calculators- quantity-based and user-defined. 


Cons:
The plugin doesn't include premium support.
Crack the Sales Code and Increase more Profit 
WooCommerce measuring tool adds a pricing calculator to your product pages if they have multiple dimensions like sq ft, volume, weight, and so on. The price of a product is shown per unit.
This enables you to offer things with known measurements per piece with ease. For example, suppose you sell tile for $2.09 per square foot and offer a box of tiles that covers 35 square feet or a bigger box that covers 60 square feet. You may easily enter the size of the box and the calculator will give the total price per box using the same pricing per square foot.
You may also sell things using the Measurement Price Calculator based on the price per unit of measurement (per square foot, cubic yard, etc.). For example, if you sell wood chips or bark at a price per cubic yard; you can enable the consumer to enter an area and depth of bark, and the calculator will calculate the total cubic yards and final price. Configure any combination of units and labels to match the demands of your shop. 
This calculator is accessible for all physical characteristics. The WooCommerce measuring calculator may be used with any combination of units. This plugin also allows you to customize measurements and pricing labels. Variable items are supported by per-unit price, inventory, and shipping weight.
Pros: 
The plugin is very inexpensive, and costs around $5

The plugin allows you to show price per units. 


Cons
Just like WP Spring Woocommerce plugin doesn't include premium support. 
Display the Shipping Costs on Product Page for Increased Transparency and Better User Experience
You may spare your consumers the trouble of going all the way to the shopping cart to find out what the shipping fees for a certain product will be. Your customers may determine the delivery charges for the product immediately on the product page. The WooCommerce Shipping Calculator on the Product Page plugin can help.
Installing this plugin is easy. Using the shipping calculator shortcode, you can place a shipping calculator anywhere on your website. The plugin can improve the shopping experience for your clients in many ways.
Personalize the shopping experience for your clients by adding customized shipping messages. You can also use radio buttons or dropdown menus to display the shipping method. At the same time, show all accessible shipping options together with their prices.
This plugin also allows you to hide the shipping calculation for a specific product, and show the shipping fee before or after the shipping form.
Pros:
The plugin works in a variety of languages.

The plugin allows you to add personalized shipping messages.


Cons:
The customer support is not very helpful.

The plugin doesn't work very well with a few third-party plugins.
Get a WooCommerce Price Calculator Now!
Giving your users and customers a better experience is the key to growing sales volume and income – and much of it comes down to thinking like your consumers. A good WooCommerce price calculator plugin provides a better user experience for your clients by answering all their price-related queries. 
Depending on your specific circumstances and the nature of your business, choose a WooCommerce plugin on your website to increase conversions and sales. 
Are you looking to add a cost calculator to your WordPress website today?
Try Stylish Cost Calculator for Free