Win more deals by quoting faster and more accurately
Automate your quoting process by capturing all your complicated product, pricing, and business rules in a calculator form
  Sales are hard, but quoting should be simple.

You can say goodbye to complicated and lengthy quoting processes, or searching for prices on spreadsheets, when you use Stylish Cost Calculator.
Your sales team can create quotes more quickly and efficiently with a CPQ (Configure – Price – Quote) calculator form.

You can even let your website visitors calculate their price, savings, ROI, and request an instant quote all by themselves! Streamline complex product sales online to drive revenue growth and profitability.  
Your customers or employees can use a calculator form to quote customers faster over the phone or email.
Wedding Photographer
Price Quote example
Base package
Below is a list of collections that you can choose a base. You may add any a-la-carte features later.
A-La-Carte Options
Please add on any additions features you may want
Extra hours
Do you need any additional hours?
Please interact with any of the choices availabe above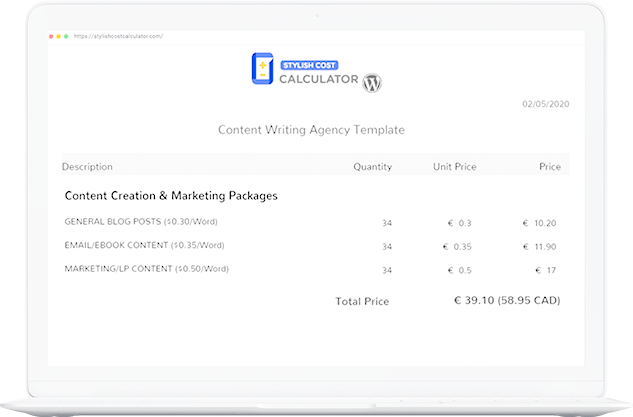 You can create accurate quotations in minutes after putting your business logic into a calculator.
Get rid of complex input forms. Ask for the relevant inputs only based on conditional logic.
Your sales reps can spend more time closing deals when they pull their data from a central datasheet.  
 Using (Configure – Price – Quote) will improve the overall buying experience for your customers.
Quotes are only the beginning of the process.
It is designed to be easily integrated with your entire sales tool stack. We integrate our software natively with Hubspot, Google Sheets, MailChimp, and Stripe. Zapier lets you connect our software to over 1,000 other apps.
This feature allows you to automate your sales funnel by connecting to your CRM, creating pdf-quotes, and making a direct sale.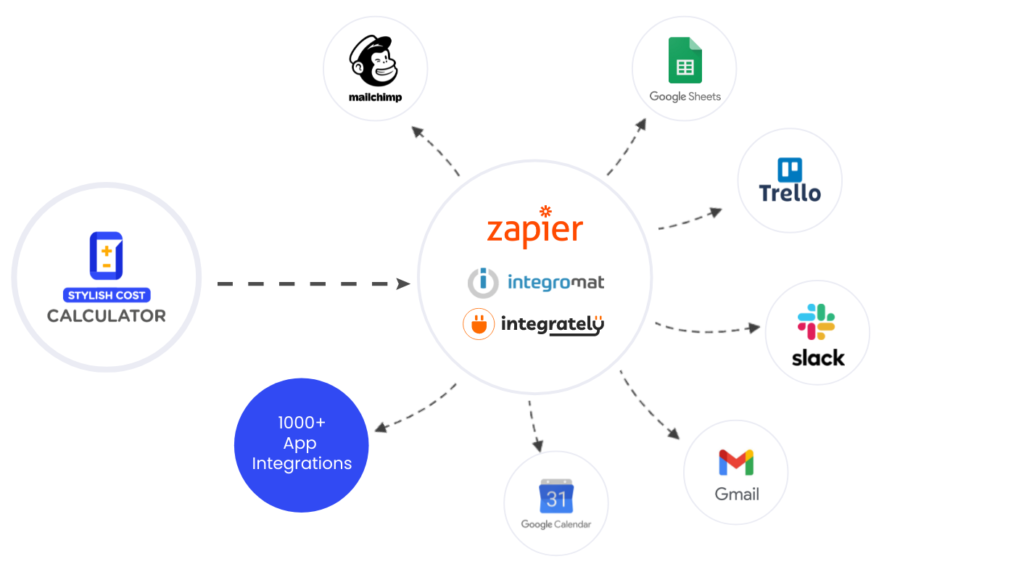 Stylish Cost Calculator is the Swiss army knife for building ROI and savings calculators. See our product page and get inspired to start building.
Currently there are 2,000+ live calculators that helped our customers capture many quotes.
People have been telling us since 2019 how Stylish Cost Calculator (for WordPress) has helped them capture more orders, faster. Here are some of the highlights.
Are you looking to add a cost calculator to your WordPress website today?
Try Stylish Cost Calculator for Free
Frequently
asked questions
CPQ stands for Configure, Price, Quote. Traditional CPQ software is designed to help sales teams to quickly produce accurate quotes.


CPQ software is perfect for automating product pricing for customisable products. With ConvertCalculator, you can even put the quote request form directly on your website.
Let's illustrate the value of CPQ with a simple example buying a new car. From the brochure you get a quick feel of the many options available, like engine, color, accessories, model, insurance, and many more. CPQ software can factor in all these options, and provide the customer and your sales rep with accurate quotes on a real-time basis for every single option that is added or deleted over the base price.
CPQ software is crucial for companies that sell products or services that have a variable pricing model. You can quote faster and with more accuracy to win more deals and increase sales.
There are multiple reasons to use lightweight CPQ software:
Reduces wasted time
CPQ helps B2B and B2C organisations to optimise their sales efficiency. With the help of CPQ, your sales team can work smarter and more efficiently. A price quote calculator directly on your website will boost your hot leads, which will further drive your sales.


Improves Quote Accuracy
A price quote calculator ensures that only the latest approved pricing and discount rules are applied. This eliminates common quoting errors, that often happen because a cell wasn't updated in your spreadsheet. Human errors like missing information or the wrong entry can also lead to lost sales. Ensuring automatic compliance with business rules, your sales team can benefit from the increased confidence in the numbers they quote.


Improves transparency
The key feature of CPQ software is that comparisons become much simpler, which helps accelerate the sales process. Moreover, a CPQ price quote calculator can help to determine the expected ROI and provide a backbone for minimising discounting.


Helps to win more deals
Price is one of the main components in the buying decision. It is difficult to provide a quick and accurate price quote for complex products or services. A CPQ-price quote calculator, that helps website visitors configure the product of service themselves, increases transparency and can boost your sales by up to 200%.
Traditional CPQ-software is often heavy enterprise software. Meaning that it takes a lot of time and effort to set up, the software lacks flexibility, is complex to use and therefore not suited to be used by your customers directly, and last of all it is expensive. Also good-luck finding a quote for traditional CPQ-software online. Most vendors rather not disclose the costs upfront.
Our lightweight CPQ solution has none of these disadvantages. Our software is highly flexible, possible to set up yourself (easy things are easy and complex things are possible). It's easy to use so you can put your quote calculator directly on your website. Lastly, our pricing is affordable and transparent.
We acknowledge that a lightweight solution can come short on functionalities that some traditional solutions offer. We are confident that, sidestepping the complex applications, 80% of CPQ use-cases can be done with Stylish Cost Calculator.