Use a Cost Calculator Form As
Turn more leads into customers with a lead generation calculator form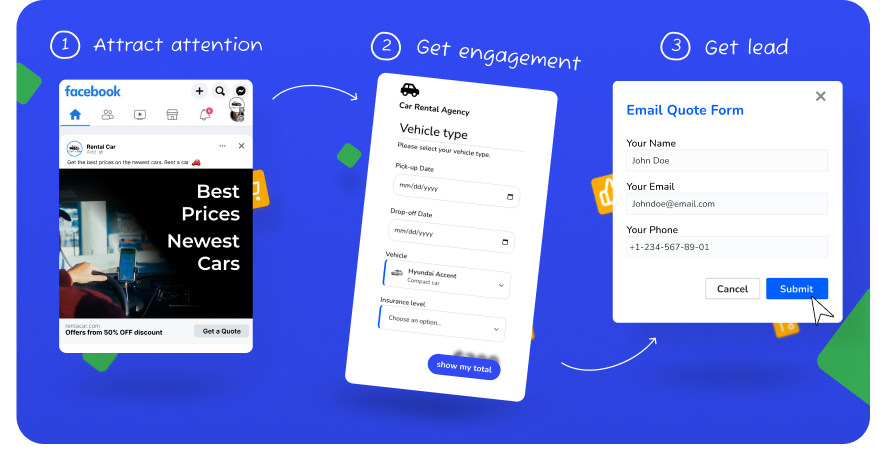 Build any type of lead generation form
Build any type of lead capture calculator form your business needs. Here some examples of what kind of lead capture tools you can build
Essentials
Please fill out the essentials below.
Additional Features
Additional Work
Please interact with any of the choices availabe above
Stylish Cost Calculator is the Swiss army knife for using a price estimator as a lead generator.
Currently there are 2,000+ live calculators that helped our customers capture many quotes.
People have been telling us since 2019 how Stylish Cost Calculator (for WordPress) has helped them capture more orders, faster. Here are some of the highlights.
Ready to capture more leads?
Create your free lead generation calculator today.
Frequently asked questions
Common Lead Generation Software Questions
The process of converting website visitors into potential customers (people interested in purchasing your company's product or service) is known as lead generation. To generate leads effectively, you usually need lead generation software. When creating a website for your company, you will undoubtedly be concerned with its marketing potential. As a result, your primary focus will be on improving the way you generate leads. Fortunately, our lead generation software can be used to effectively capture leads.
There are numerous methods for generating leads, which are generally classified as either outbound or inbound marketing. Outbound marketing refers to more traditional marketing methods such as radio and television advertisements. It is frequently regarded as obnoxious and heavy-handed, with the material frequently regarded as an interruption.
Inbound marketing, on the other hand, aims to create content that draws people directly to your company through more subtle means.
This interest can then be converted into engagement and sales since leads have a genuine interest in your company or product.
By including a calculator form on your website, you can immediately engage potential customers in the service you offer. The direct engagement provided by a lead generation calculator form prompts leads to take additional action on your website.
What's more, SCC can assist you in accomplishing this. For example, the calculator form lets you add a field that encourages leads to enter their email address for more information. This process assists in naturally converting strangers into customers by allowing them to actively participate in the potential that your product can provide them.
Not only that, but it also looks nice! Consider the possibility of promoting the use of your calculator (or lead capture form) via various social media channels. You must ensure that it works properly on a wide range of devices.
Thanks to the fact our lead generation software integrates with Zapier, you can make use of the calculator in combination with over 1000 apps. This means such things as integration with email; the creation of rich PDF documents with Ultrdox; data capture in Google Spreadsheets; and even have applications such as Slack notify you in the event that a new lead has been captured.
In addition to this, our lead capture tool also integrates with such things as HubSpot's CRM tools. By integrating your calculator with the CRM tools HubSpot offers, you can make sure to document the contact and deal information of any potential leads.